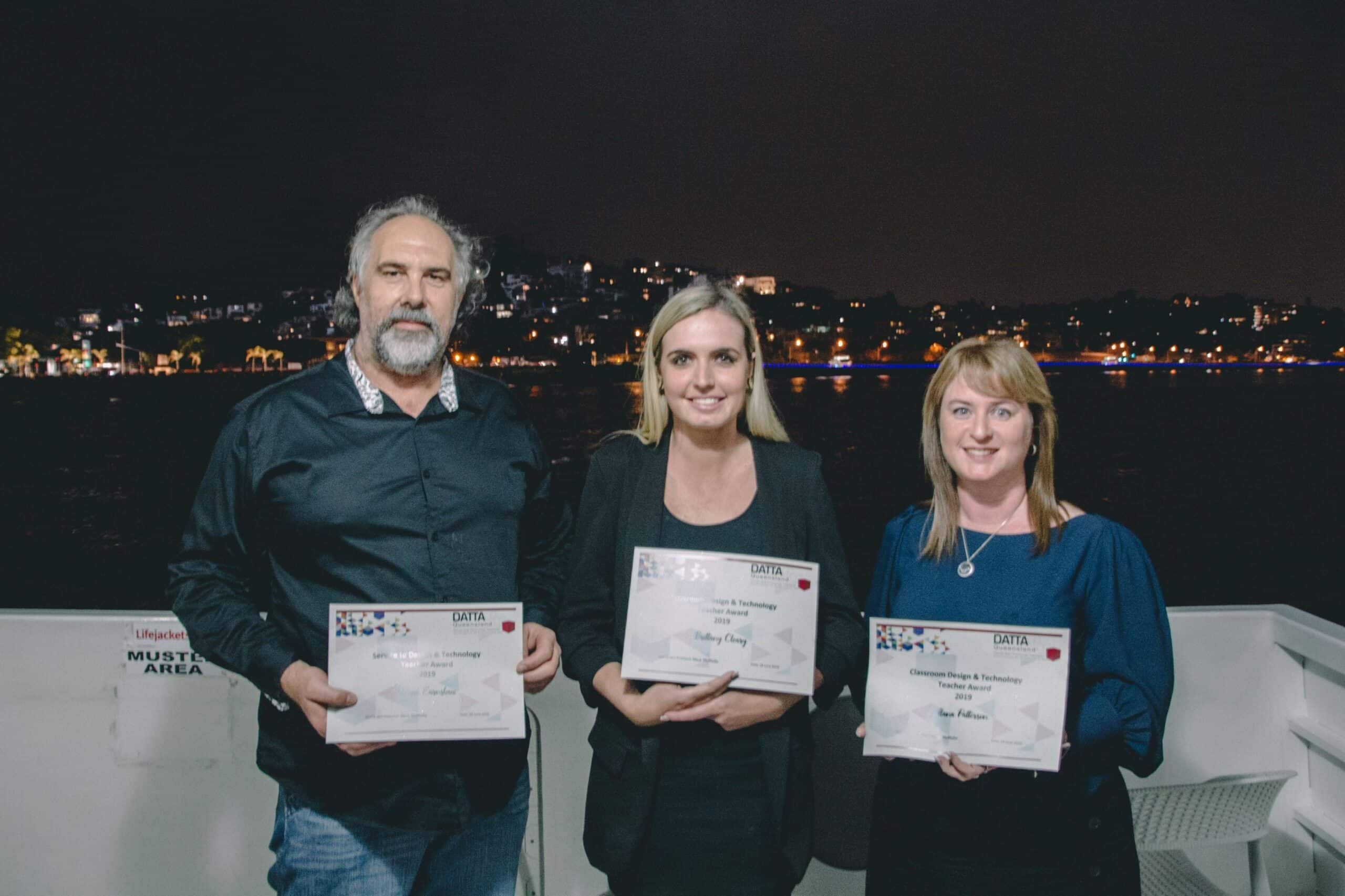 2019 DATTA QLD Award Winners
Each year we like to acknowledge the good work that is taking place around the state by people who are passionate about the area in which we teach. After consideration by the committee we would like to acknowledge the following nominees and award winners.
Service to education
Mark Earnshaw has had a teaching career spanning 33 years and has been a steadfast, innovative and professional design and technology teacher. Mark is currently a teacher at Kawana State High School on the Sunshine Coast.
As well as outstanding pedagogical skills and deep commitment to his students and department Mark has been a member of the professional learning community of design and technology teachers through his membership with DATTA. He has worked collaboratively with colleagues across the Sunshine Coast to organize and host PD workshops and a supportive network. He has also greatly contributed towards the profession by being a panelist and mentor for preservice teachers.
Classroom Design and Technology Teacher – Primary focus
Nikki Muller is the Junior DigiDesign Technologies teacher at Coomera Rivers SS on the Gold Coast. She began her teaching career as a key member of the team in developing the rollout of the schools 1:1 iPad program. Nikki tested, played and created with a variety of apps to find the perfect tools for the school. Since then she has developed many resources and learning tasks to help teachers and students to implement technology in innovative ways.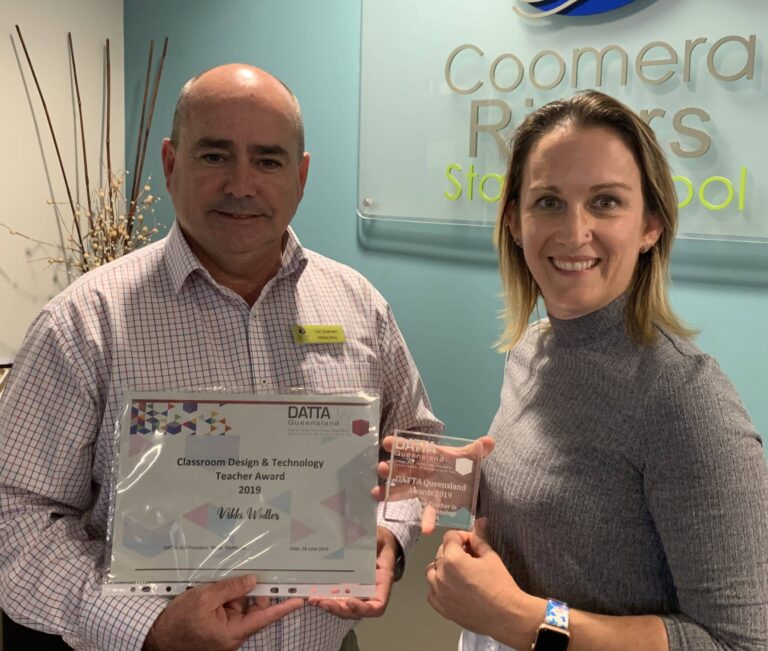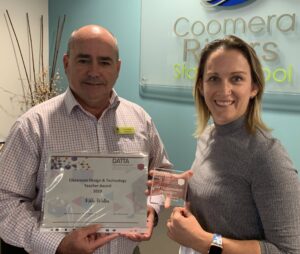 Nikki leads and inspires educators by providing opportunities to build their capability using technology effectively in the classroom. She has presented at STEM workshops around the state and has been a panel advisor to new teaching graduates in the areas of STEM education. 
Nikki coordinates the schools very successful annual Digital Pedagogy Open Days which attract over 100 educators from all over Queensland. Opportunities for networking, resource development and professional development are offered by Nikki that are dedicated to developing both STEM and the use of digital tools in the classroom. 
Honorable mentions
Brittany Cleary started her Design and Technology journey from HPE at the start of 2019. Britt, as a second year teacher threw herself into the game of learning a new area by starting back at school a whole week early. She learned all about how the school's laser cutter, 3D printers and CNC machines worked, she wrote her first set of curriculum units based on the ACARA Design Technology curriculum during that week. By the time her two IDT classes arrived for their first lesson 8 days later, she not only knew how to use the technology, but she had re-written the curriculum to be even more engaging than in previous years. Britt immersed herself in the field of VR (Virtual Reality) and recognised a place for it in the Y9 design program where students design a micro house using CAD software. They then seek feedback from their peers using the VR environment before finalising their designs and making low fidelity prototype models. Britt has showcased her ability to not only develop engaging curriculum that promotes design and technology but has also shown leadership and direction that bodes well for the future of design technology not only at Ferny Grove SHS, but also across the State.
Andrew Devoy has a career spanning approximately 30 years, Andrew has taught Technology Education at all girl school; Brisbane Girls Grammar and at all boy school Marist College Ashgrove. He has a plethora of skills up his sleeve and the ability to engage all students in class and out. Across his time at Marist College Andrew has had many achievements within the field of Design and Technology – too many to list here! The following paragraphs are from colleagues made in his 2018 ITD review.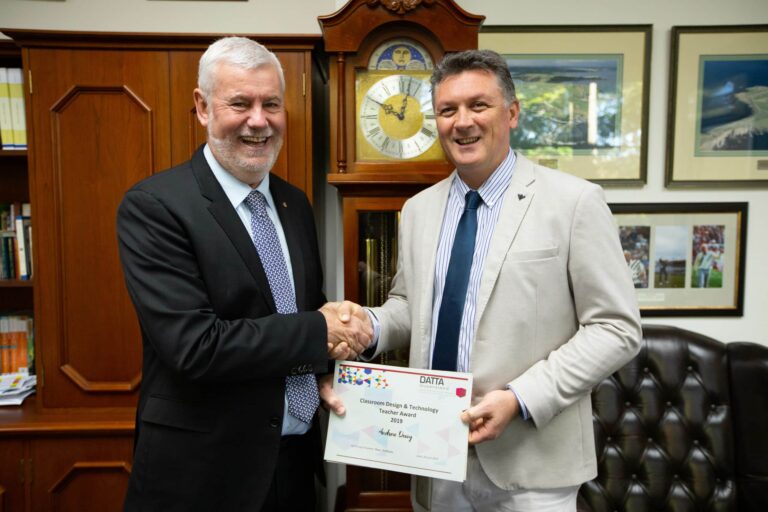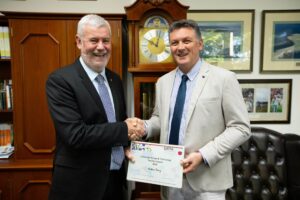 "Andrew excels as curriculum leader, his vision for the department puts Marist at the forefront of Design and Technology not only across the state but across the nation – he is highly respected by his colleagues and peers." 
"Mr Devoy is to be commended on his very effective leadership and management as ITD Coordinator to achieve the best possible outcomes for students, staff and parents in support of the mission of Marist College Ashgrove." 
In a department that always requires continuous improvement, Andrew leads by example and strives to keep the department moving forward. He is extremely qualified and highly accomplished and should be recognised for his efforts. 
Main Classroom Technology Award
Alana Patterson has been a Technology teacher for 19 years. She began teaching in 2000 in the field of Manual Arts or Industrial Technology and Design. And entered this teaching area as a female minority, in a traditionally male field. She has spent her career challenging stereotypes and proving that passion for Technology and Design has made her a leader in the area of Technology. In her time at Canterbury College, she has progressed from Teacher, to Subject Coordinator, Head of Department, WHSO, Fire Safety Advisor, Graphics District Panel Chair and Conference Speaker. She has led the subject areas of Technology, Industrial Technology, Digital Technology, Visual Art and Vocational Education. She is respected by teachers within her school and across Queensland and is very proud to have been nominated for this award in 2019.
Developing curriculum has always been a passion and Alana believes the design classroom is a wonderful place for students to achieve their goals and realise their design ideas in a safe learning environment. She has been involved in progressing the subject of Design and Technology through many ways such as curriculum development, professional Development and many more.
Our area is a constantly changing beast and Alana has shown herself to be a proactive, innovative and passionate leader in our field.