A Year 5 Technology Collaboration
Technology program encourages primary students to save the world with solar
Year five students are solving global challenges while getting a taste for design and technology thanks to a program being run by St Columban's College in Caboolture .
Head of design and technology curriculum at St Columban's College, Rachel Warnes, organised the program for students from nearby St Peter's Catholic Primary School.
"That's where a lot of our students come from so we like to collaborate with them in many different ways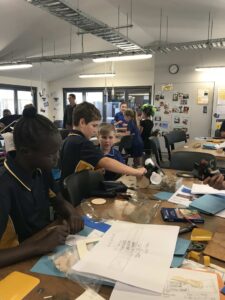 . Also, primary schools often don't have the facilities or theexpert teacher knowledge to offer technology programs for their students," Ms Warnes said.
She said the four-week program let students experience the design process, use different equipment, and become more familiar with the environment where they're likely to transition to high school.
Students work in small groups to design and model a solar device that addresses one of the UN's Sustainable Development Goals which aim to reduce poverty, inequality and environmental degradation.
"The students had to develop their own criteria for the product: what does it have to do, how does it function, how does it look? They spent hours designing, sketching and talking through how their device would solve the problem they had chosen," Ms Warnes said.
Solutions developed so far by the students have included solar-powered desalination units, water filters, generators and lights. Keeping with the sustainability theme, each group creates a model of their device using industrial discards sourced from Reverse Garbage.
"I think the thing they enjoyed the most was the model making, because they don't often get that practical, hands-on experience."
"I also wanted to show the primary school teachers that was something they could do in their own classroom: while they don't have 3D printers, they can access recyclable materials and hot glue guns."
Four classes of Year five students from St Peter's will complete the program this year. Ms Warnes said being able to give the primary school teachers involved a deeper insight into delivering design as a topic was another valuable outcome of the program.
"One of the teachers said to me they didn't think I'd given the students enough information and guidance. But I said I didn't wanted to leave it open to see what they came up with — and in the end they came up with fantastic things."
"Primary is generally more directed, but coming from the design perspective we want to be a little more open and just give students a starting point to let them be really imaginative and creative and come up with their own solutions."
Feedback from St Peter's has been positive, with general agreement the project challenged students in a good way.
Rebecca Dalton from St Peter's was surprised by how creative, thoughtful and practical the students' designs were. She said she had learnt that, "It's OK to give the students more freedom and very open-ended questions as they will succeed."
Another teacher said, "We loved it and as a teacher is was great to take a back seat and see others teach a great unit. I feel all students were challenged and rose to the occasion."