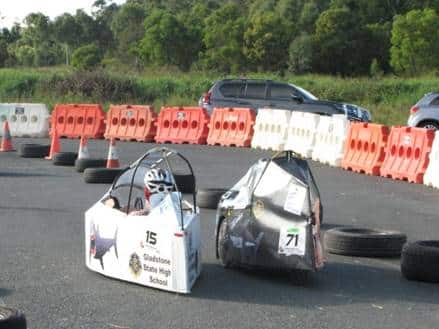 Gladstone Sharks make their mark – HPV Yeppoon
The Gladstone State High HPV (Human Powered Vehicle Programme) travelled to Yeppoon last weekend for the Cap Coast Full Throttle HPV 8 hr race .  The race is now in its second year and State High again took 4 teams to the event to support HPV in the region.  It was a very different race to Bundaberg; a long straight on a slight incline (that seemed to increase as the race progressed) and about double the length.  All our teams competed well and I am proud to announce that the Sharks took out 1st in both the Junior Mixed and Senior Mixed divisions!
The programme actually kicked off with a 'Teacher Feature' event of teachers/staff competing over 3 laps.  All 3 staff from Gladstone State High entered this year (after much coaxing by the students I have to say) and we all finished the race without injury to bike or body!
State High registered in 4 different divisions for this event; the Junior Boys division (a year 7 team), a Junior Mixed (year 8-9), a Senior Mixed (year 10-12) and a Senior Boys.  All teams competed admirably, and our the year 7's improved considerably from their first race in Bundaberg.  Special mention however to both Mixed Teams, taking out first in their respective divisions.  Congratulations students!
As always, we would not be able to operate without the dedicated families who help with preparing the bikes.  I would also like to thank all the parents that drove up to watch and be a part of the event.  The programme would not be able to survive without the commitment from the parents.  It makes my job so much easier.  Thanks also to Andrew, our school based police officer for driving us to and from and helping out all weekend as well as Chappy Jarek.  I would also like to acknowledge Smit Lamnalco and Printright who have been major sponsors of the programme.   Check out the banner that Printwright made.  Go the Sharks!!!
Stay tuned for our next event in July/August.