Project example: Building a Bluetooth speaker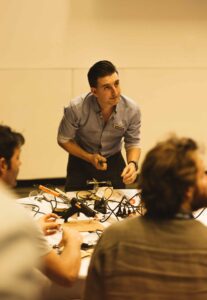 Looking for an engaging project that brings real-world design challenges into the classroom?
Shaun Manning from St Columban's College in Caboolture runs a popular program where students learn to build a functional Bluetooth speaker. The 10-week unit is offered to design and technology students in Years 9 and 10. 
Mr Manning said the unit allowed students to develop their fine-motor skills and build a relatable product. He said he wanted to bring relevance to the projects being developed in the classroom—based on sought-after products people buy in stores.
"I encourage them to create original ideas—not just copy what they see in a JB Hi-Fi catalogue. The students build something that actually works and the speakers are often multi-functional," he said.
"For example, one student created a Bluetooth speaker shaped like an elephant that doubles as a mobile phone holder using the elephant's trunk—it was her first time using the tools and modern production methods."
He said the program pushed students outside their comfort zone and required giving students a lot of opportunity to practise soldering so they can handle all the wiring themselves. 
Mr Manning outlined four key elements of the program:
Design and draw concept 
Build prototype

Construct a prototype without electronics or soldering e.g., using cardboard and tape

Ensures students don't waste material and allows them to refine design

Build speaker

Create full-sized working speaker using machinery appropriate for the chosen materials

Complete wiring and soldering 

Analyse and assess
Self-assessment and reflecting on the quality, precision and success of the design is a critical part of the unit, to guide improvement and generate discussion.
"Students self-assess at each stage of the process from concept, to prototype and the final build and they mark their own work before it comes to me," Mr Manning said.
Mr Manning said speakers could be built with a variety of materials like wood, plastic and acrylics, depending on the available budget.
DATTA Queensland members can access a free design blueprint created by Mr Manning.